The NELDA (Northern Eurasia Land Dynamics Analysis) project seeks to harness NASA remote sensing technology and local knowledge of land-cover conditions to validate and improve land cover and land-cover change products for Northern Eurasia.
Given the importance of Northern Eurasia for global ecosystem and climate processes, improved characterization of land cover and land-cover change in the region is a scientific priority. While multiple moderate and coarse-resolution land-cover products have been developed, their validation remains a challenge, particularly for boreal and temperate Northern Eurasia where validation sites are sparse, several land-cover types are unique, and processes of ecosystem disturbance and land-cover change are widespread, including fire, timber harvest, insect outbreaks, agricultural conversion and abandonment, melting permafrost, and forest regrowth.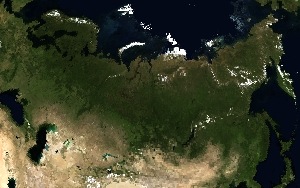 NELDA builds on a network of test sites and time series of Landsat-resolution imagery to analyze land cover and land-cover change across Northern Eurasia. To develop maps at test sites we rely on recent and ongoing projects and regional collaborators with local experience in land cover mapping and change monitoring. The higher spatial resolution maps from the test sites are used to validate current global land cover products. NELDA will also develop a new land cover map for Northern Eurasia based on MODIS data from 2005 at 500-m spatial resolution. To ensure consistent and comparable representation of land cover NELDA developed a legend in line with the FAO Land Cover Classification System.
NELDA project and successor NELDA II project were supported by NASA-LCLUC Program in 2005-14 to monitor and validate the distribution and change in land cover across Northern Eurasia.
Image courtesy NASA Earth Observatory