MODTrendr algorithm (Sulla-Menashe et al., 2014) was applied to 14-year time series of peak-summer Normalized Burn Ratio (NBR) composites derived from the MODIS Nadir BRDF-Adjusted Reflectance product (Schaaf et al., 2002). MODTrendr predicts timing (first year), duration (number of years) and magnitude (differenced Normalized Burn Ratio, dNBR) of the greatest forest disturbances. Only short-term disturbances of duration less than 6 years were considered.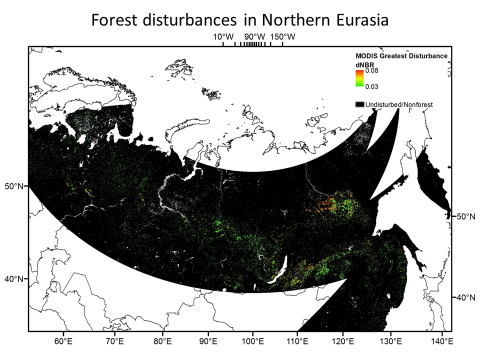 Sulla-Menashe, D., Kennedy, R.E., Yang, Z., Braaten, J., Krankina, O.N., & Friedl, M.A. 2014. Detecting forest disturbance in the Pacific Northwest from MODIS time series using temporal segmentation. Remote Sensing of Environment (in press). Available online 7 November 2013, ISSN 0034-4257, URL
Schaaf, C.B., Gao, F., Strahler, A.H., Lucht, W., Li, X., Tsang, T., Strugnell, N.C., Zhang, X., Jin, Y., & Muller, J.P. (2002). First operational BRDF, albedo, nadir reflectance products from MODIS. Remote Sensing of Environment, 83, 135-148.
D. Pflugmacher, D. Sulla-Menashe, O. Krankina. "ASSESSMENT OF THE MODTRENDR ALGORITHM FOR MAPPING FOREST DISTURBANCES IN NORTHERN EURASIA" NELDA-II REPORT (UNPUBLISHED)