Projecting landscape conditions in the Coast Range with the CLAMS simulation model
Pete Bettinger, Department of Forest Resources, Oregon State University
Objective
Build and apply dynamic, spatial models that simulate forested landscapes, the condition of fish and wildlife within these landscapes, and the economic and social outcomes and outputs they will produce.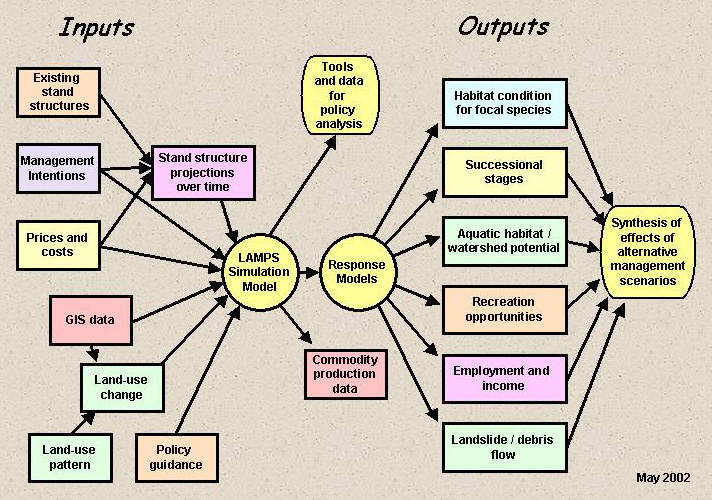 Main points

We are working with the major landowners in the Coast Range in an effort to simulate their management intentions in a reasonable manner.



The CLAMS simulation model is a spatial simulation model and is associated with a quantitative projection of stand structures.
Spatial decision units

Pixels
Basic simulation units (aggregations of similar, contiguous pixels)
Parcels (harvest units)
Harvest blocks (aggregations of parcels)
Modeling landowner behavior
OWNER

HARVEST PRIORITY

SILVICULTURAL CHOICES

SPATIAL DECISION UNIT

Forest industry

Value-based

Clearcut
Rotation age

Parcel

Non-industrial private

Age-based

Partial cut
Clearcut

BSU

Federal

Structural
stage-based

Thinning
Clearcut (Matrix)

Parcel

State

Structural
stage-based

Complex

Parcel
Stand structure projections (forest growth models)

ORGANON for private and state management prescriptions.

ZELIG for federal management prescriptions.
Inputs to the models
Stand structure data

Volume
Value
Vegetation class
Age
Snags
Down log volume
Canopy closure
Average overstory tree diameter
Trees > 40 inches dbh

GIS data



Ownership
Ecoregion
Initial vegetation class
Distance from stream
Slope class
Watershed
Acres
Whether the BSU is "forest" or "non-forest"
Clearcut size limits

Parcels which are clearcut in the same planning period, and next to each other, are aggregated, and the total aggregate size of these areas is limited to 120 acres.

We also attempt to produce a distribution of clearcut sizes similar to recent history.

Simulation scheduling considerations
Federal
Schedule thinning volumes when they can occur in reserves. In matrix areas, randomly select harvest units for clearcut harvest: no more than 1% of matrix land in each 5th-field watershed (5,000-50,000 acres) can be clearcut in any one year; older forest must be maintained above 15% of federal land in each watershed.


State
Randomly select harvest units for treatment, based on a goal of achieving a distribution of structural size classes within each 5th-field watershed (5,000-50,000 acres). State riparian rules are modeled.


Non-industrial private
Use harvest probability approach, which is based on stand age over time, to schedule either partial cut or clearcut treatments. State riparian rules are modeled.


Forest industry
Use a binary search technique to achieve an even-flow of harvest volume over time. Harvest units are "blocked" for clearcut treatments. Block sizes are determined based on an estimate of recent clearcut size distributions in the mega-sheds. State riparian rules are modeled.


Other considerations
For any BSU that is assigned a clearcut treatment:
The assignment subsequent prescriptions utilizes a "transition probability" to determine which vegetation class each BSU becomes after clearcut. The probabilities are based on: ownership class, ecoregion, vegetation class prior to cutting, and distance to the stream network.
In each period, 1% of the hardwood BSUs, on the lowest slope classes, within 100 feet of the stream, are re-established. Riparian management prescriptions are timed with clearcuts in the uplands in the same parcel. These prescriptions are an attempt to model the State Forest Practices Act riparian rules.

Conclusions
The CLAMS simulation model was developed with the intent that it will be used for forest policy analysis.
We want to use this spatial simulation model to help people think through forest policies before adopting them.
DRAFT projections - Alsea Basin, OR
Year 1995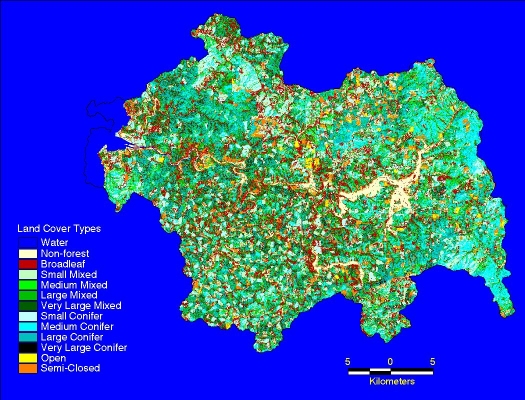 Year 2045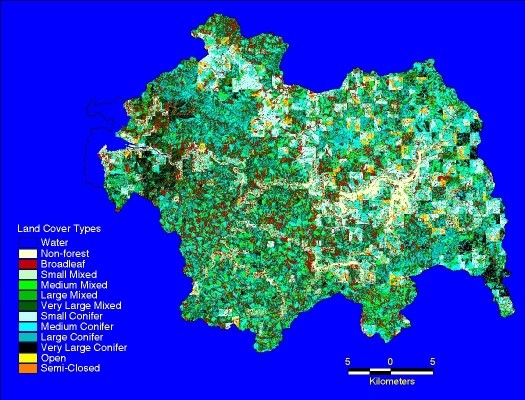 Year 2095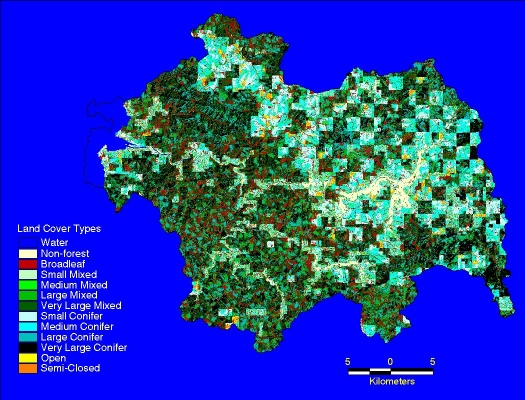 ---